Your Search For The Best UFT Training Ends Here…
UFT Training On Demand
Our step-by-step UFT training program starts from scratch, develop your concepts to make you a UFT rock-star.
You can access the course anytime from the comfort of your home or office 24*7. With videos, eBooks, sample UFT scripts and assignments, we make sure that you get thorough with the concepts of UFT and VB Script.
Help & Support is always a click away.
Click on the play button to know the complete details about our newly launched training course.
Looking for UFT Training? You're at the right place…
UFT (formerly QTP) is one the most widely used functional testing tools in the market today. Top organizations now realize the importance of automated functional/regression testing and hence UFT experts are always in demand.
Being in this industry for more than 10 years and having run a popular website, we at LearnQTP understand this requirement and have hence crafted a UFT training course which can fill this need. People can now gain real world knowledge on UFT and get hands-on experience with it. We impart UFT training through high quality pre-recorded videos which can be accessed by anyone, sitting anywhere in the world available 24*7. Trainees can ask questions through our dedicated help desk. Check the testimonials at the bottom to find out what our trainees have to say about this course. You can also view sample videos available below.
How UFT Training On Demand works
To make sure we do not overwhelm you with information, we are going to drip-feed video lessons to you. You will get lessons across a span of 10 days. 1st set of lessons will be delivered as soon as you register, 2nd set of lesson will be delivered on 4th day, 3rd set of lesson on 7th day and 4th set on 10th day. After that you will have access to ALL video lessons and material for full 365 days or as per your subscription.
After each day of the training you will get an assignment to make sure that you are learning what is being taught in a particular day's lessons. The answers to these assignments are provided the subsequent day. We regularly add videos/material to extra lessons sections where you will find video lessons and articles related to the newer features of UFT.
Course Material
Other than the videos and assignments you will get –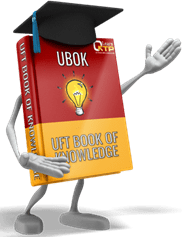 UBOK - UFT Book Of Knowledge
An eBook on tips and tricks to work smart with UFT. Learned and compiled over years of tinkering with UFT.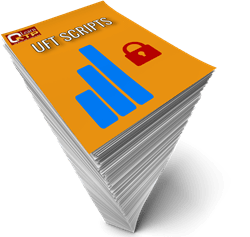 UFT Scripts
A rich collection of UFT Scripts used in day-to-day real-time scripting.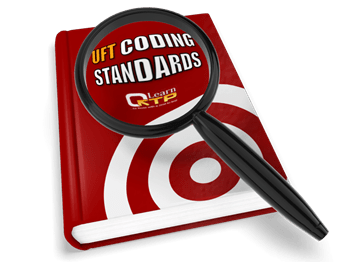 UFT Coding Standards
A compact coding standards document to make sure you and your team follow the same standards across project.
Sample Videos
Check some of our sample videos below
What Our Students Are Saying
Don't just take it from us, let our students do the talking!
Your tech support is first rate…
Ankur – Once again I'd like to thank you for your great teaching and the super good value for the money. As previous user of QTP (some 7 years back), I needed to a prep to reintroduce myself to the tool…your lessons and the format fit that bill really well…SUPER JOB. On personal note: Once again ""THANK YOU"" for being flexible and so very helpful. Also your tech support is first rate, so all I can do is to tell the people considering this class to take advantage of your great offer and to go ahead and get started….(I am not being compensated to say any of this…so please accept this as my personal opinion based on my personal experience during this course)…
Eli Graf, US
I have made recommendations to my company…
We are just starting to use QTP in our company and I felt this class will help me tremendously when developing my Regression scripts. Ankur is very knowledgeable on QTP and covered information in the class that would have taken me months to learn on my own. I really have a good start now thanks to Ankur and I have made recommendations to my company to have everyone take his class. I really learned a lot. Thank you Ankur
Tammy Plata, US
This is the best training I've every had on any Mercury application…
This is the best training I've every had on any Mercury (now HPE) application. Ankur has a gift for teaching. He has a way of explaining things and making them very clear. He answers all questions thoroughly. I highly recommend this training to anyone who wants to learn the how and whys of QTP.
Debra Lucas, US
As a legacy programmer and complete novice to the concepts of QTP, I finished the training highly enlightened…
…to the values and usage of QTP. This is attributable to the ease of use of the product, but mostly due to the knowledge and enthusiasm of the trainer, Ankur Jain. As I read in another person's comments, I would gladly take any courses taught by Ankur. There is no question I would leave that training with a comfortable feel for the subject. I recommend the software and the trainer to any level of QTP user seeking more knowledge. That includes the extra tips Ankur offers at the end of various topics thru out the course. Thanks Ankur.
Frank Davis, TN, US
I was able to finish the QTP certification sucessfully…
After the training,i was quite confident in using the tool.The Tips for each sessions was very helpful. Learning Vbscript was like a snap of fingers. After the training,I was able to finish the qtp ceritfication sucessfully.
Jyothsna, US
Some of our corporate clients…

Plans and Pricing

At most of the training programs whether online or offline, you get a one-off training where once the course is over, you are on your own. There is no continued access to the trainer and no further material is provided.
In UTOD, you get a UFT coach for the tenure of your subscription. You can ask training related questions and we strive to make sure you enhance your knowledge with our continuous supply of articles, ebooks and videos.
For a limited time we are offering a discount of over 25%. The pricing is available in both USD and INR.
UTOD
1 year Access to Complete UFT Training On Demand Course

UBOK

UFT Scripts

Updates for 1 year
UTOD Plus
1 year Access to Complete UFT Training On Demand Course
1 year Access to UFT Cert

UBOK

UFT Scripts

Updates for 1 year
UTOD
1 year Access to Complete UFT Training On Demand Course

UBOK

UFT Scripts

Updates for 1 year
UTOD Plus
1 year Access to Complete UFT Training On Demand Course
1 year Access to UFT Cert

UBOK

UFT Scripts

Updates for 1 year
Frequently Asked Questions
What do you mean by UFT Training On Demand (UTOD)?
As the name suggests, this training is available on-demand. These are the high quality pre-recorded videos for UFT training which can be accessed by anyone, sitting anywhere in the world. 24*7.
My company wish to purchase several training licenses. Can we register employees in bulk?
Yes. Just send us an email at admin@learnqtp.com with your requirement. We will help you with the rest.
My company does not have the facility to transact in PayPal, what payment options do we have?
You can pay via check (FedEx), wire transfer or credit card (VISA, Master, American Express, Discover). Contact us at admin@learnqtp.com, in case you have any questions.
Is it safe to pay through LearnQTP.com?
Yes. Once you click on Sign-Up button, the entire payment processing happens on the industry leading, highly secured payment processors.
We have partnered with PayPal (for payments in USD) and Instamojo (for payments in INR).
How can I contact you?
For any questions regarding the training, you can either contact us using the chat box on the bottom right of this page. In case, an agent is not available for chat, please contact us using this contact form. We will respond as soon as possible.