Creating a test without using the object repository is known as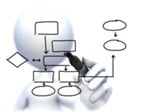 descriptive programming since you describe the objects as part of the script.
Additional Reading
Descriptive Programming Simplified
If you want to keep track of further articles on UFT (QTP). I recommend you to subscribe by Email and have new UFT articles sent directly to your inbox.