I started my first corporate job more than 12 years back. Back then, life was relatively easy. There were fewer distractions. One can focus on a piece of work for a longer period. Compare that to today, the endless notifications and pings and all your devices screaming for your attention.  There has been a paradigm shift on the internet and our working styles. Distraction has become a part of life.
Either you can succumb to distractions or make technology your friend. There are tons of tool my team use to keep our life in order and mind sane enough to work. I have come up with a hand picked list of 11 tools which can make you a productivity rock star at work.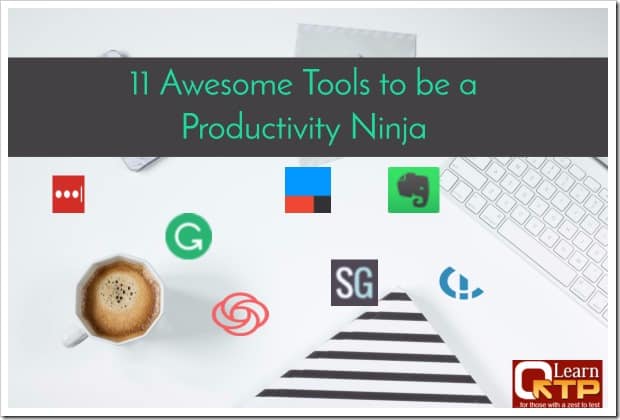 While there are hundreds of tools for different purposes, this list is going to be a generic one which can be utilized by anyone be it coders, software testers, bloggers, entrepreneurs, freelancers, business consultants, etc. These are the essential tools we use every day at work.
Most of the tools mentioned below are free. Some of them come with a price tag, but they are worth it.
1. PageNotes: Contextual Notes for Any Website
Out of all the heavyweights listed here, this is slowly becoming my favorite tool.
Ever needed to note down something about a webpage e.g. course notes, frequent flyer number, membership number, tracking id etc. Something that you want to remember when you visit that page again? PageNotes lets you do that and much more in a slick way. Your notes can live in the cloud allowing you to be free of the device. It's secure: data stays in your browser and your Google drive; you can encrypt your notes if you want that extra level of security.
While there are dozens of note taking applications, PageNotes keeps things in context so that when you visit a page next time, you can access notes related to THAT specific page with a click of a button.
PageNotes is a free Google Chrome extension.
2. Google Keep/Evernote:  Your Brain Dump
"Never memorize something that you can look up."

– Albert Einstein
These are what I call my "brain dump" apps, where I log all my work-related ideas, thoughts and that moment of inspiration which strikes at random moments throughout the day. Google Keep and Evernote work almost in a similar fashion. While Evernote may have some more bells and whistles, Google Keep is my tool of choice. It works with one unified login and has a backing of Google behind it.
Google Keep is completely free, Evernote is a freemium app with generous free tier. They both come with iOS and Android apps.
3. LastPass: Don't Remember That Password Anymore
LastPass – is a secured could based platform – that stores the username and password of the websites you use frequently. It can then help you fill those user credentials at a click of a button. Watch the video below to understand how LastPass works.

I was first introduced to password managers in 2009. I started with Windows only password manager app and since then have become an avid user. Around 2015, I was introduced to cloud-based password manager LastPass. While the thought of keeping passwords in the cloud was bit unnerving, I was happy to see that they offer multiple two-factor authentication services.
If you keep tons of user credentials in an excel sheet and have to refer them time and again, it's time to give up that habit and migrate to LastPass.
Almost all features of LastPass are available in the free app.
4. Grammarly: Fix Your Grammar in Real Time
You have written an email for an important client and worried if the sentence construction can make the right impact? You have drafted a blog post and now want to get it proofread by an expert? Or in general, want to ensure that any document that leaves your hand is free of grammatical errors. Grammarly is the tool for you.
Available as a Chrome extension and as a native Windows app, Grammarly can help you identify grammatical and spelling issues, sentence construction errors, vocabulary enhancement suggestions and more. All this happens in real time by Grammarly engine developed by expert linguists. Watch the video below for a quick introduction to Grammarly.

Grammarly is free for basic checks. The premium version provides advanced grammar checks and vocabulary suggestions. Millions of people all over the world love Grammarly; it is a must have for you if English happens to be your second language.
5. Freedom.to: Stop Getting Distracted
If you feel compelled to check your social media profiles and later regret wasting several hours in the time-black-hole, Freedom app can help you. Freedom blocks distracting websites and apps across all your computers and mobile devices. With Freedom, one can start block-sessions on-the-fly or schedule those sessions in advance. The block sessions can be planned to recur daily or weekly.
The app is available on Windows, Mac, iOS and Android platform.
Click on the button below to check your distraction score.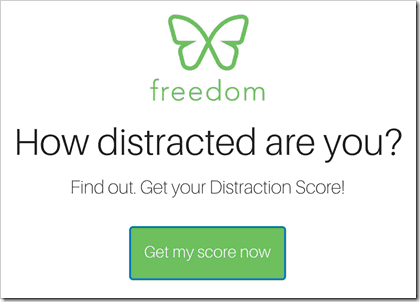 Freedom is a premium app and comes with seven days free trial.
6. RescueTime: How You Utilize (or waste) Your Time?
Ok, you got distracted? How will you measure your productive and non-productive hours you spent on your machine? RescueTime helps you monitor and understand your daily habits, so you can focus and be more productive.
RescueTime runs securely in the background on your machine. It tracks time spent on applications and websites, giving you an accurate picture of your day with beautiful reports and dashboard.
RescueTime is a freemium app with a generous free tier. I feel this is a must-have tool for everyone who works on a computer.
7. Snag.gy: Screenshots a Click Away
There are several screenshot tools, desktop as well as web based, but the simplicity of Snag.gy has caught my fancy. It has become an integral part of my workflow. Alt + Print Screen ⎙ command would capture the screenshot, and Ctrl + V would paste it on Snag.gy window. It then provides you with a private URL which can be shared with anyone. You can optionally choose to register an account if you want to track history of your screen captures.
8. Loom: Screen Capture Videos a Click Away
If a picture is worth a thousand words, perhaps a video is worth a million!
You are a support agent who wants to show a quick how-to to a client. Your grandma needs step-by-step instructions on how to put an attachment to an email. Loom should be your tool of choice. Personally, when my UFT training student's get stuck on something, I use Loom to explain a concept quickly.
Loom helps you make a quick screencast and stores it in the cloud almost instantly.  You will get a private URL which can be shared with anyone. Loom is completely free of cost. They are planning to come up with a premium version for businesses.
Checkout Loom.
9. Speechnotes Voice Typing – Why Type When You Can Speak
I was hooked on the idea of voice typing when I started using my iPhone's voice typing feature. This single feature has increased my productivity many folds on my iPhone. Instead of typing and struggling with fat-finger syndrome, one can dictate to his/her iPhone across all apps on the iPhone be it WhatsApp, Viber, Gmail etc.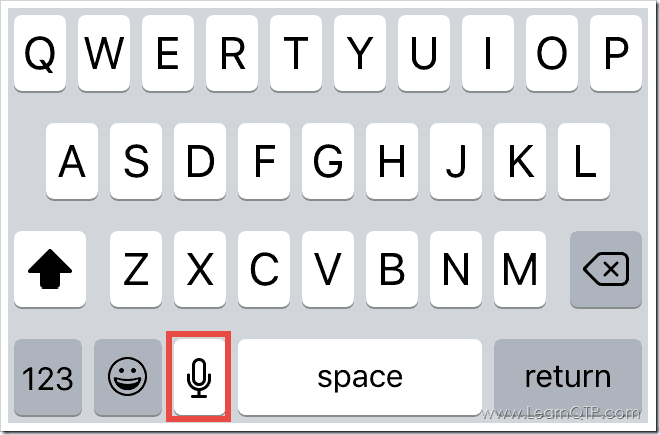 I wanted to extend the idea to my Windows based machine, but sadly and surprisingly the options were insufficient. Windows native speech recognition has a poor accuracy. I tried using the acclaimed Dragon Naturally Speaking by Nuance. The software was clunky, and again it does not offer the precision I was looking for.
It is during this time, I landed on SpeechNotes. The accuracy of its speech-to-text translation engine is mind blowing. For my Indian accent, it gives me ~ 99% accurate translations. SpeechNotes is based on Google's speech-recognition engines.
At a recently concluded Google I/O 2017, as reported by 9to5Google,
Sundar Pichai noted that computers are getting better at understanding voice input, with Google having achieved "significant breakthroughs" in speech recognition. In fact, Google's machine learning systems are now nearly on par with humans.
I can certainly testify this statement. Use any app for voice recognition, but make sure it uses Google speech recognition engine at the backend. Speechnotes has recently come up with a Chrome extension as well, which means you can now voice type on any website in your Chrome browser.
10. Pocket – All Your Links In a Single Place
Found an interesting article or a video but don't have time to view it? Put it in Pocket. Once inside Pocket, your saved article is available across laptop, tablet or phone and you can watch it per your convenience.

It is a great app for avid readers amongst us.
11. IFTTT/Integromat – Connect Web Apps With Each Other
What if you could automatically tweet all your Facebook updates or you could save all your bills and invoices in your accountant's shared Dropbox folder automatically. What if you can automatically switch on the lights in your house as soon as you arrive home or you can allot higher bandwidth to a device at a particular time of the day in your network. IFTTT – IF This Then That – enables anyone to do this kind of wizardry, and you need not be a rocket scientist to figure out the details. You just need to think about the possibility and the heavy lifting would be done by IFTTT service.
Among other things, I use IFTTT to automatically save my utility bill invoices every month from Gmail to my chartered accountant's shared Dropbox folder.
If you find IFTTT too simple for your needs, try Integromat. I feel Integromat is IFTTT on steroids. If you have a programming bent of mind, you will love Integromat. Watch the video below for a quick introduction to Integromat.

While IFTTT is completely free, Integromat is a freemium app with a generous free tier.
Over To You
I would be happy if you go away with at least one tool after reading this article. Don't forget to comment below about the tool you like the most. Do you have any favorite productivity tool other than the one mentioned above? Please comment below.
Additional Reading: 10x your productivity with this free Windows software I use daily
If you want to keep track of further articles on UFT (QTP). I recommend you to subscribe by Email and have new UFT articles sent directly to your inbox.