For those who might have missed this new feature of QTP 9.x series…
QTP's "Keyword View" provides a tab called "Documentation". As the name suggest this option generates auto-documentation for whatever is recorded in expert view. Now you may want to export this documentation and use it as your manual test cases.
Go to keyword view > Right click on Documentation tab > Click Copy Documentation to Clipboard > Paste in to notepad or MS word.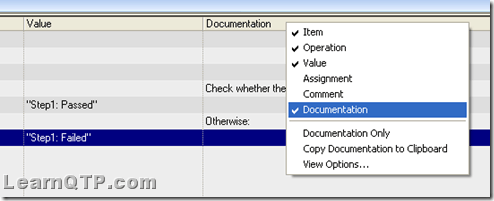 Although copying documentation was possible with QTP 8.2 also but there was no direct way through IDE itself. You need to tweak registry to get this in 8.2
If you want to keep track of further articles on UFT (QTP). I recommend you to subscribe by Email and have new UFT articles sent directly to your inbox.