After several months of preparation and planning, HPE Software has spin merged with Micro Focus. In a $8.8 billion deal, which culminated on Sep 1st, 2017, the software arm of HPE has merged with Micro Focus. HPE will still hold 50.1% of the merged company. Our beloved software will henceforth be Micro Focus UFT.
This merger makes Micro Focus the 7th largest software company in the world.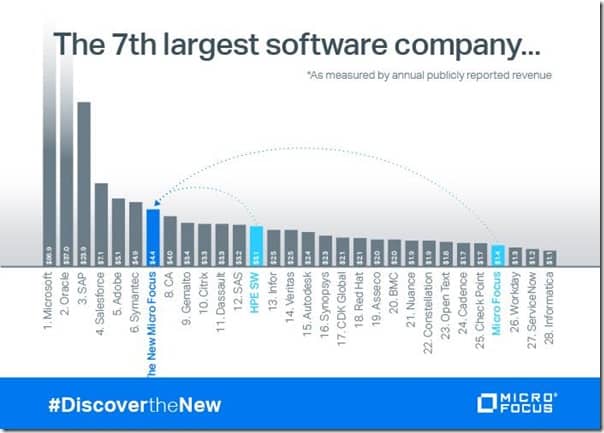 HPE software businesses in areas such as application management (like ALM, LoadRunner, UFT), big data analytics and enterprise security are merged with Micro Focus.
"Today marks a significant milestone for Micro Focus, and I am honored to be leading this team," said Chris Hsu, Chief Executive Officer of Micro Focus in a press release. "We are bringing together a powerful combination of technology and talent uniquely positioned to drive customer-centered innovation at enterprise scale – enabling organizations to maximize the ROI of existing software investments while embracing the new hybrid model for enterprise IT."
"It is our mission to provide a best-in-class portfolio of enterprise-grade scalable software with analytics built in, and put customers at the center of our innovation building high-quality products that our teams can be proud of," added Hsu. "Driven by this mission, Micro Focus is uniquely positioned to help customers and partners address opportunities and challenges within the new hybrid model for enterprise IT – from mainframe to mobile to cloud."
What does it mean for UFT practitioners?
All the existing products which we have been used to like ALM, QC, LoadRunner would now reside at Micro Focus. UFT download would now be served from the Micro Focus domain.
Currently the community forums, knowledge base are served through HPE domain. Eventually with time, Micro Focus plans to migrate the UFT community, knowledge base, certification and training programs to Micro Focus domain.
Micro Focus holds similar product in its portfolio called Silk Test. It remains to be seen whether both Silk Test and UFT would grow independently of each other or they would be unified together in some manner or perhaps one of them would be shut down.
Here is a short 3 minutes video on how HPE and Micro Focus joined hands to become a global giant in software.
If you want to keep track of further articles on UFT (QTP). I recommend you to subscribe by Email and have new UFT articles sent directly to your inbox.