HP has launched a latest revision to UFT 12 in July 2014. Perhaps it is the first minor upgrade after the launch of UFT 12 in March 2014. Here are some interesting new features in UFT 12.01 (in descending order of queries that we receive at LearnQTP)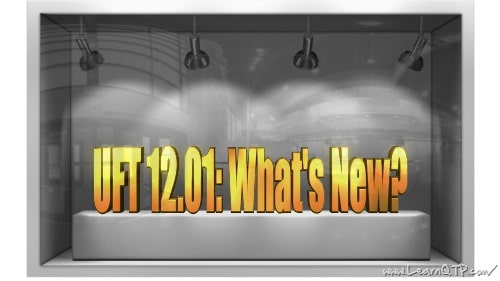 OS and Browser Support
UFT 12.01 officially supports Windows 8.1 and supports Windows Server 2012 R2 (at technology preview level) Complete windows support matrix can be viewed here.
Support for Safari on Mac is now out of Technology Preview. UFT can now officially perform testing on Safari browsers (running on Mac OS) including:

Running tests on Safari browsers running on a remote Mac computer.
Remotely spy on Safari browser objects and take snapshots during test runs.
Using a secure communication channel between the UFT computer and the Mac computer.

Browser versions supported by UFT 12.01 are IE v8 – v11 (including extended protected mode), Firefox till v31, Chrome till v36 and Safari (on Mac) v6, v6.10, v7.00. Complete browser support matrix can be viewed here.
UFT Extension in Chrome Store
Going forward, the UFT Agent Chrome Extension would be available at Chrome web store. Like other Chrome extensions, you will be able to get automatic updates for UFT Agent extension and you may not need to rely on manual method of installing UFT agent.
Better Documentation
HP claims that the documentation (and search) has improved in 12.01. I hope that is really the case. The current documentation format and search of UFT 12.0 is slow and isn't liked by many.
Support for Windows Runtime objects on 8.x or Windows Server 2012
A Windows Runtime application is any application running from the Start or Apps screen in Windows 8.x/Windows Server 2012 and installed from the Windows Store. These applications differ from traditional applications in previous versions of Windows (which run in the Desktop screen in Windows 8.x/Windows Server 2012). In UFT, the Windows Runtime Add-in is always available when UFT is installed on a computer running Windows 8.x. This support is in technology preview mode.
Using the Windows Runtime Add-in, you can:
Record and run tests on your Windows Runtime applications
Create object repositories with Windows Runtime objects
Use UFT on Windows 8.x by easily navigating between UFT (running on the Desktop screen) and your Windows Runtime application
Enhanced Support for Various Technologies
UFT can recognize and interact with objects from Siebel web applications using SiebelOpenUI. This is supported on Internet Explorer 10 and 11 running on Windows 7.
UFT can recognize and interact with objects from SAP applications developed with SAPUI5 running on Internet Explorer. It is in technology preview mode.
Using the GetVisibleText method for Insight Objects: You can now retrieve text when using Insight, enabling you to capture more than just the bitmap image for Insight objects.
UFT API tests give you the option to use preemptive authentication sent with the first request to the Web service (instead of waiting for the authentication prompt from the Web service).
UFT recognizes Flex Advanced Data Grid objects as Flex tables. New FlexTable test object methods are available for Advanced Data Grid controls: CollapseRow, ExpandRow, and SortByColumn.
Newly Supported Technologies
JDK 1.8
Hyper V (Technology Preview level)
SAP Web Dynpro ABAP for Netweaver 7.40
Expanded Internet Explorer support for SAP Web UI support
XenDesktop 7 (Technology Preview level)
Follow the instructions here to download the latest version of UFT.
Over to you, what new feature/enhancement would  you like to see in UFT 12 future versions?
If you want to keep track of further articles on UFT (QTP). I recommend you to subscribe by Email and have new UFT articles sent directly to your inbox.